Every third Tuesday, I link up with Fancy Ashley and Erika for Tuesday Talk.
Today, I want to talk about our funny car stories.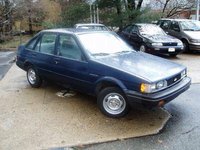 This is a dark blue 1987 Chevy Nova.
My parents bought this in 1987 and it was the first new car either of them ever drove.
It was a 5 speed manual, AM only radio, no air conditioning, and no right side mirror.
We named it the Blue Torpedo.
In 1998, they bought a Chevy Malibu that was automatic, so my brother and I could learn to drive an automatic before a manual.
In 2000, my parents decided that I could drive the Blue Torpedo to school for my senior year. Provided that I drive my brother, as well.
I was estatic.
There was only one problem…the ceiling fabric no longer stuck to the ceiling.
We tried every kind of glue and contraptions to get the ceiling to stick.
No luck.
My brother and I regularly drove to school taking turns holding the ceiling up so our arms didn't get tired.
I think by the end of the school year, we didn't even care anymore and the ceiling fabric just sat on our heads the entire way to school and back home.
In 2003, I needed a car for my internship and the Nova wasn't reliable enough, so my parents and I co-bought a Ford Focus.
I named him Sharky.
In 2008, Sharky no longer had working heat.
I don't know why, but for some reason, I didn't get it fixed right away.
Dumb.
I lived in Buffalo. It snows there. It's cold in the winter.
So what did I do?
I kept my fake Uggs in the car at all times, along with an old comforter.
So every morning, I would get dressed for work, put on heavy ski socks, wear my heaviest winter coat that looks like a giant sleeping bag, and climb into the car.
My client at the time was like an hour and a half away.
When my friends got in the car, I would offer to share the blanket with them.
Co-workers didn't really want me to drive to lunch that often. 😛
In 2009, the air conditioning stopped working. (I had fixed the heat by this time.)
I drove to a job interview and arrived a half hour early. I then walked around the 7/11 so I wouldn't look like I just ran a marathon in 90 degree weather.
I tried to convince The Hubster that it was normal to drive around with all the windows open, no matter what the heat was outside.
No joke – I drove that car, without air conditioning, until 2012.
Apparently turning 30 made me realize it was time to be a grown up and get a real car that worked.
Let's round the cars out with my 2012 Volkswagon Jetta, aka Greta the Jetta.
She worked out great, until a mechanic messed up the engine and the heat started working spradically.
I limped the car through the winter of 2019 and mostly rode in The Hubster's car.
I'm happy to report, that my regular car, had heat, air conditioning, and a ceiling that sticks appropriately! 🙂
So tell me your best funny car story…I love hearing how people just drive around with crazy stuff happening like no big deal!