It's Let's Look Wednesday and I'm linking up with Mix and Match Mama and A Little Bit of Everything to peek at some of the stuff in our lives!
Today, we're peeking inside our suitcases.
Is this everyone packing for a trip?
I either bring way too much stuff or we're at the store because I have like 1 pair of underwear for 5 days.
This is how I pack…I figure out how many days and what the weather will be and I get outfits together.
Since I forget underwear or socks, I realized that I needed to get the entire outfit (including jewelry and shoes) together before it goes in the suitcase.
Here we are with the shoes and also after I took this pic, realized I didn't include pajamas.
If we're driving and I need to bring clothes that normally hang, I put it on my closet door and we take it with the suitcases.
Now if I'm going on a longer trip, I did start using packing cubes.
LIFE CHANGING.
I haven't needed to use them lately, so I don't have any good pics, but they saved my butt when I needed to go to California for a week and didn't want to bring a monster suitcase!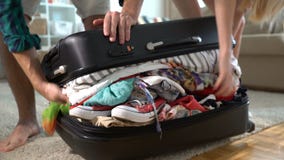 Now closing a suitcase…that's another story that I don't think I'm prepared to discuss. 😉
~*~
In January we talked about the coziest places in our house!
In February, we talked about our favorite books.
In March, we talked about the people in our family.
In April, we talked about our pantries.
I completely spaced on May.