Last week I had to make a super quick trip to NYC for work. Good thing I had a few hours of down time, because I definitely snuck some fun stuff in! 🙂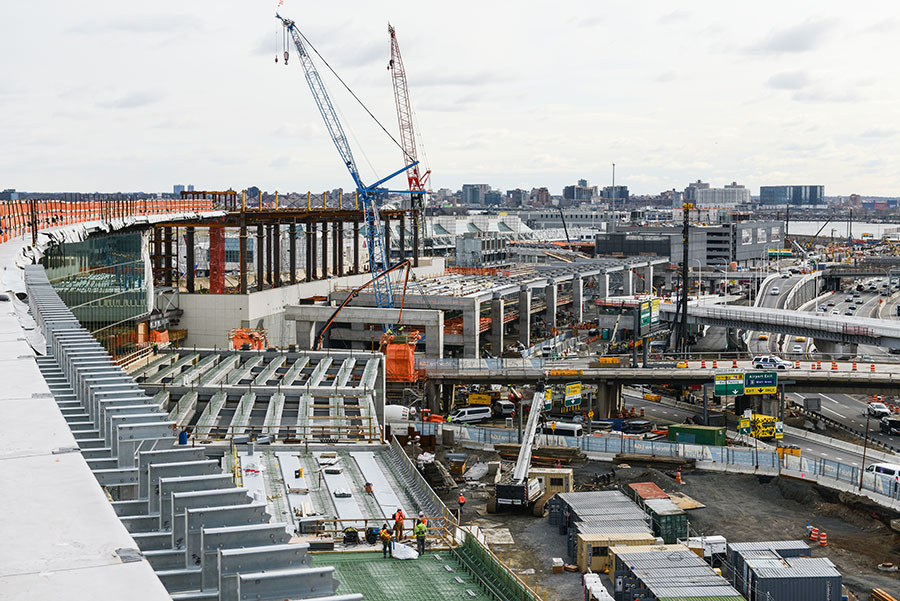 I flew into LaGuardia and I'm going just say this…it's a complete and total cluster.
Do not, I repeat do not, fly into LaGuardia unless you absolutely have to.
It's crazy unorganized.
The construction makes it a nightmare to navigate.
I waited in line for a taxi, had to get on a bus and was pretty much an incredibly unsafe sardine for 15-20 minutes, and then had to get in another line for a taxi.
It was awful and I can say for certain, flying into JFK is sooo much better.
I got to my hotel and thankfully, they have this amazing Gin Parlour, where I enjoyed some fun cocktails. Seriously. They make all these crazy amazing gin drinks.
I headed to a work dinner at a restaurant owned by one of our board members.
I said I wanted to try his veal parm because I heard good things about it.
He was flattered and told the waiter to bring me the big one.
Clearly, this is enough to feed The Hubster and I for a week!
It was really good!
I know it looks small, but in the background here is the Statue of Liberty.
This view is courtesy of my meeting room!
It was kind of hard to pay attention for 4 hours when I knew this amazing and beautiful view was out there.
I had another quick meeting and saw my co-workers at the bar. Of course I joined them and order this fun gin drink.
They asked why I was drinking with a tree in my drink, but it was so tasty, I didn't even care!
I was left to my own devices for a few hours until dinner and so I headed out shopping on Madison Avenue.
I found these awesome deals at Coach and found some cute sale items at the Kate Spade flagship store.
Note to self…walking around NYC when it's 90+ degrees and humid is a bad idea.
I was sooo hot.
I spent some time in Prada and Louis Vuitton full well knowing I was not buying anything because air conditioning.
The Prada people weren't so happy with me. 😉
Macaroon heaven!
After a shower and ice bath, we went to Babbo for dinner and OH MY GOSH it was amazing and so good and can I have it every single night?!?!?
If you ever go to Babbo…do the pasta tasting menu.
Each course is better than the last and you want to never stop eating.
And then my trip was over and I headed home.
So quick, work productive, and fun shopping/eating trip! 🙂