Fri-yay! 🙂
I'm pretty excited for this weekend. Tomorrow we're heading to a couples shower for my brother-in-law and sister-in-law's baby girl. And Sunday my parents gifted us tickets to an illusion show.
Should be a fun weekend for sure!
I'm linking up with Erika, Narci, and Andrea to share my favorite things this week.
[one]
The Hubster got me this puzzle for Christmas and we broke it out last weekend.
Because it's 1000 pieces and life is also happening, we're still working on it.
And I have a preview of what we're going to be like in our retirement years. 🙂
[two]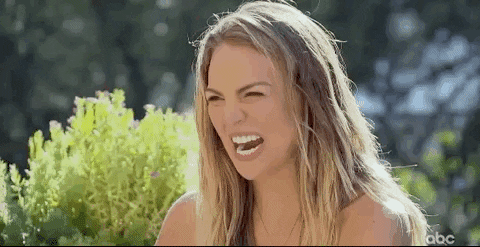 Hannah B from the Bachelor is my favorite this week.
She deemed herself Hannah Beast. Gave us tickets to the gun show. And continues to make the face above.
It makes my Mondays so much more fun.
[three]
These shoes are on their way to me right now and I couldn't be more excited to try them out!
I'd like to wear them this weekend to the shower, but I'm not sure what to wear with it.
Any suggestions?
[four]
We had oatmeal for dinner the other night (I know…we're weird).
We both hate how the other makes oatmeal.
But it works for us.
How do you oatmeal?!?!
[five]
One of my favorite shows starts next week!
I know that I wasn't super happy how they ended last season and wasn't sure if I was going to watch anymore, but I can't help myself!